Nick Nolte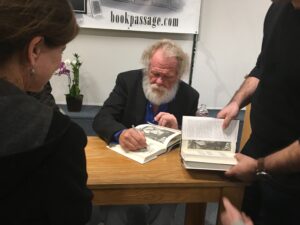 We have an awesome independent book store in Marin County (The Book Passage) that is a well-established stop for authors plugging their books. It is always well attended when someone well-known shows up. Last night was no different. Actor Nick Nolte, you remember him (North Dallas Forty, Down and Out in Beverly Hills)…was interviewed by fellow actor Peter Coyote. Nolte's new autobiography is called Rebel: My Life Outside the Lines and has just been released by William Morrow.
Nick Nolte didn't disappoint his many fans present. I didn't know what to expect. He has always been a "Rebel" as an actor and basically a "crazy man". That's what's so interesting about him. He does his own thing. I went last night to see for myself.
Coyote asked Nick to talk about different areas in his life, mentioning sections of REBEL. He spoke of having a "giant of a man", who was 6′ 6″ tall, as a father. His mom was a professor type in Ames, Iowa where he grew up. Football was his game, but when he was introduced to acting, it was something that he just had to do!
Nick Nolte gave lots of insight into many of the folks he's worked with through the years. But not in true "tell-all" form, he spoke of writers, directors, producers, and how things worked in Hollywood. When it came time for Q & A, I was the first hand-up. Of course, I was interested in his connection with Barbra Streisand and his role in The Prince of Tides. Nolte was nominated for an Oscar for Best Actor in 1992. He said, "Barbra is a perfectionist". He said it with no malice and had the utmost respect for her attention to detail.
He recounted first meeting her at her Manhattan, New York apartment. That was before he was cast as Tom Wingo from the wonderful Pat Conroy novel. He said Barbra offered him some red wine but was a bit nervous about Nolte possibly spilling it on her ALL-white carpet. That of course got a big chuckle from the packed room at the book store. More questions came his way and each was answered indirectly with many tangents and lots of work details. For a man of 76, he has a strong recollection of details and the work.
There was very little spoken about his personal life, except for his early years and his accepting parents. As I waited in line to get my copy of his book signed, I ran into two other Barbra Streisand fans who were happy that I asked about The Prince of Tides. Nick signed my book and I told him I was looking forward to reading it. He said, "I haven't read it yet, either" in his raspy, deep voice. (He worked over seven years with various ghostwriters, finally settling on a woman who wrote in his "voice" and he is happy with the end product.)
Add another book and autograph to my collection. It's always fun to see people you've enjoyed on the big and little screen in person and hear their stories. As I shuffled through the photo section of the book, I recall just how handsome Nick Nolte was when he did "Rich Man, Poor Man", one of the first Mini-Series on TV from back in the 1970s. He may have changed in appearance over time, but inside he is still a dedicated actor who cares about his work and has put many demons behind him.