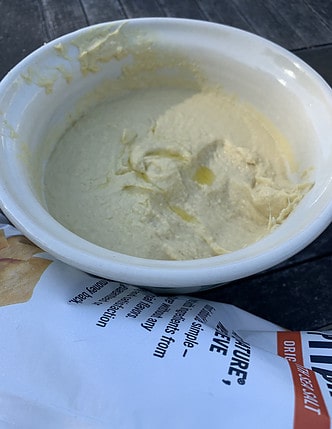 Hummus with Artichoke Hearts
I don't know about you, but I am always looking for tasty and healthy recipes to make for my family.
One that fits into that category is my Hummus with Artichoke Hearts recipe.
It takes about 20 minutes from start to finish and makes a wonderful anytime hors d'oeuvre.
Ingredients
2 15-ounce cans of Chick Pea (garbanzo beans)
1 15-ounce can of quartered artichoke hearts
1 fresh lemon
1-2 garlic cloves
2 tablespoons Olive Oil
1/4 teaspoon Sea Salt
2-3 tablespoons warm water (as needed)
How to make it:
Open and drain the cans of garbanzo beans and artichoke hearts and put them into a blender or Cuisinart mixer
Dice 1 or 2 cloves of garlic
Squeeze the juice of a lemon
Blend until smooth and creamy.
Serve once chilled to make a little thicker consistency.
Garnish with a sprinkle of olive oil in the middle and a dash of paprika if you like!
Serve with chopped cucumbers, carrots, celery, or my personal fave: Pita Chips!
So easy and delicious!
Make enough for a dinner party hors d'oeuvre! Enjoy!
As an Amazon Associate, I earn from qualifying purchases.