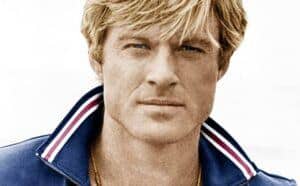 I am a long-time fan of
Robert Redford
and was saddened to recently read that he is retiring from acting soon. He has made tons of movies over a 50+ year career and definitely deserves some rest and relaxation at the age of 82 years old.
Click here to view Redford's filmography
. It is quite noteworthy in length and for all his roles: actor, producer, and director.
Before I get to the list of my Top Ten Best Redford Films, here are some facts about the "Sundance Kid":
FACTS
​Full name: Charles Robert Redford, Jr., nickname: Bob

Born: August 18, 1936, in Santa Monica, CA.

He was a pitcher on the University of Colorado baseball team, before losing his scholarship due to drinking.

He is a man of many hats: actor, writer, director and producer, and narrator.

He founded Sundance Ski Resort in Utah in the early 1960s by purchasing two acres for $500.

He founded the Sundance Film Festival to help up-and-coming filmmakers.

He has been married twice: Lola (1958-1985) and Sibylle (2009-current)

He has three grown kids: Shauna, Jamie, and Amy.

He is an environmental conservationist and his liberal political views.
My Pick of Robert Redford's 10 Best Films of All Time
10. The Candidate
9. Downhill Racer
8. The Natural
​7. Barefoot in the Park
6. All the President's Men
5. Ordinary People
4. The Sting
3. Butch Cassidy and the Sundance Kid
2. Out of Africa
1. The Way We Were
Do you agree or disagree with me? Other contenders were The Horse Whisperer and Electric Horseman.