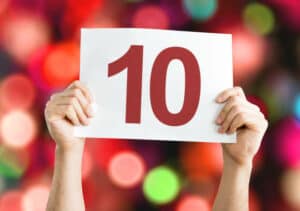 Since today is the 10th of the month, I thought I'd make a Top Ten List. Here is a list of my favorite concerts EVER!
I'd like to hear from you and hope you will share some of yours with me! Ready, Set, Go! Full disclosure: I went to high school in the 1970s and I like pop music. Without sneaking a peak at number one, I bet some of you already know who that is for me!
10. Carly Simon – 1990s Concord, CA – This one was special because Carly just doesn't do many concerts at all. She has talked openly about having a stutter and some stage freight, it was an awesome show. One of my favorite filmed events of her performing was "Coming Around Again" on Martha's Vineyard.
9.
The Monkees
– 1990s Candlestick Park, San Francisco before a Giant's Baseball Game. Everyone in the group was there except for Michael Nesmith, but still so great. I never saw them when I was 10 and the TV show was on the air, so I had to wait 25 years to finally realize a childhood fantasy. Who didn't love Davy? And the antics of Mickey Dolenz? And the quirkiness of Peter Tork? It was wonderful to be with a bunch of thirty-something women all screaming when they played
"Hey, Hey We're the Monkees"
!
8.
Bruce Springsteen
– Born in the USA Tour 1980's – He rocked the Oakland Coliseum for four hours! I watched him run and dance and sing.  No one could top his energy level! I still crack up remembering when I thought the crowd was booing him, they were in fact yelling "BRUCE, BRUCE".
7.
Prince
– Purple Rain Tour – Cow Palace, San Francisco 1980s. A friend and I were given some press passes to take photos back in the day. We were allowed to "shoot photos" for just the first three songs. Looking back, that concert was "A Happening". And it was so cool when Sheila E. opened. Glad I saw him LIVE in concert.
6.
Simon and Garfunkel
– 1980's Reunion……that almost never happened. If you read Penny Marshall's autobiography
My Mother Was Nuts
, she writes about her part in getting Simon and Garfunkel back on the concert stage again, together. Penny was dating Art and Paul was with Carrie Fisher. Penny asked them to sing together. Well, the rest was history…Great concert, great music!
5.
The Jacksons
– Including Michael – The Victory Tour at Dodger Stadium, mid 1980s. When Michael broke down during the song "Ben" it was a moment I'll never forget. The brothers were together again! Quite a sight and what beautiful sounds! That was a show to remember!
4.
Linda Ronstadt
– anytime – I've seen Linda a bunch of times, and she never disappointed. From her rock days to Spanish numbers to the Trio with Emmylou Harris and Dolly Parton, to the Nelson Riddle standards. Her voice rocked! Tough to beat! Her
Musical Memoir
is worth a read if you are a fan!
3.
Paul McCartney
(solo & with Wings) Hey, he was a Beatle. That's all that needs to be said. My favorite Beatle! The way he tilted his head back and forth, love him, any age!
2.
Elvis
– In December 1976 just six months before he died, I saw Elvis at the Cow Palace in San Francisco. I was so far away I couldn't tell that he wasn't in good shape. I am glad to say that I saw him in concert.
"I Can't Help Falling in Love"
is one of my all-time fave hits from The King, and
"Hound Dog"
and
"Viva Las Vegas"
.
1.
Barbra Streisand
– No surprise here for anyone who knows me. I've seen about a dozen Barbra Streisand concerts in person. Yes they are expensive, yes they are out-of-this-world extravaganzas and yes, this Funny Girl IS "The Greatest Star" by far! After waiting so many years to finally see her in concert for her big return for 1993/1994 New Year's Eve/Day at the MGM Grand in Las Vegas, one might be let down, but NO. It was better than anyone could imagine. She sounded so good, picked the right songs, and was a literal hoot. Fast forward to last December in 2016, I saw her next to last performance in Florida. She was so thankful and appreciative of her fans. What a ride her concerts have been. I took my dad, my brother, my sister, and my partner to see her over the years. Her singing career has stood the test of time. Without a doubt the best concerts I have been to, EVER!
There you have it. My Top Ten List of My Favorites Concerts, Ever. Who would you put on the list? I'd love to hear from you.
My Top Twenty List would include Bette Midler, Tina Turner, Madonna, Neil Diamond, Elton John, James Taylor, Bonnie Raitt, Dolly Parton, and Fleetwood Mac……