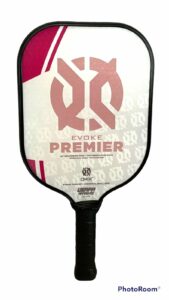 Pickleball is one of the fastest-growing sports around!
Here's a list of common questions about pickleball equipment.
Q: What do you need to play pickleball?
A: A paddle, a pickleball, court shoes (not running shoes!), athletic wear (hat, sweatshirt, sweatpants, socks, shirt, shorts)
Q: Do I really need my own paddle?
A: Keep it simple at first. You can borrow a paddle from a friend who plays. In no time you will be hooked on the game and need/want to buy a paddle.
Q: Is it a paddle or a racket?
A: It is a paddle, not a racket. As a tennis player, I have often called it by the wrong name, but either way, it's still a paddle.
Q: What's the best paddle for me?
A: It will depend on your level and there are so many great options currently on the market.
Q: What are important things to look for in a paddle?
A: Price, the weight of the paddle, and the size of the grip.
 JUST PADDLES has what you need! Shop today!
Q: What do pickleball paddles cost?
A: It depends on what they are made of wood, composite, or graphite. Wood is the least expensive: $15+ to 40, composite begins around $50, and graphite from $60 to $150 or so. 
Q: What is the weight of a pickleball paddle?
A: Paddles range from 6 to 14 ounces. The lighter the paddle, you will have more control. The heavier the paddle, you will have more power. Avoid a paddle that is too heavy, since it might cause arm injury.
Q: What about grip size?
A: Most measure in the range of 4 inches to 4 1/2 inches with 1/8″ increments. You want a paddle that isn't too big that it's hard to hang onto or one too small that will turn in your hand.
Q: What kind of shoes do I need to play pickleball?
A: Court shoes is the short answer and absolutely NO RUNNING SHOES! You can hurt yourself. A court shoe sole (either made for tennis or pickleball specifically) is made to move multi-directionally. A running show propels the foot forward only. Pickleball is a game that requires a range of movements and a change of running directions.
My favorite shoe is made by Wilson: Pro Rush Ace. I wear a men's model since I have a wide foot. It provides comfort and prevents injury. Here is a short video review for the Wilson Rush Pro Ace Pickler Men's Wide Shoe.
Tip: Wear your pickleball shoes ONLY during play and they will last a lot longer! Bring a pair of flip-flops or other shoes when done playing to rest your feet!
Q: What is a pickleball?
A: It is a hard plastic, whiffle ball type of ball with holes in it. Indoor balls have larger holes. Outdoor balls have smaller holes in an attempt to minimize the effects of wind and outdoor elements. There are a number of popular balls: Franklin X-40, Wilson, and Penn Outdoor 40 (softer feel for rec play). There are many colors to choose from as well.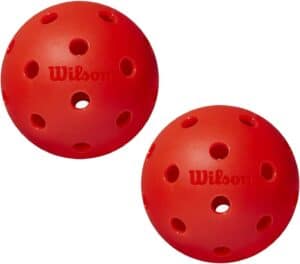 Watch for more posts about pickleball equipment in the near future.
A to Z Pirate Booty (Anne Z's eBay online store) has pickleball equipment, with lots more inventory arriving soon!
Or click on the link for this recent post: Best Pickleball Paddles in 2022.
As an Amazon Associate, I earn from qualifying purchases.

Shop the best deals in pickleball at JustPaddles. Whether you are buying beginner pickleball players, intermediate pickleball players, or professional pickleball players, JUST PADDLES has a full array of top paddles at the best prices.