Click on the link above to watch the 6:10 digitized super-8 film.
A CarAnne Production
Directed by Anne Zarraonandia
Starring Carrie Zarraonandia
1976
Carrie Z has a dream and plays Chris Evert in the finals of the Virginia Slims of California. Read more about Chris here!
About Carrie Z: Carrie Zarraonandia grew up in Southern California playing pick-up games of baseball, football, basketball, and tag at her local park. At nine years old she found her passion, tennis.
Carrie competed in the junior ranks in SoCal and NorCal and while attending the University of California at Davis helped her team win the D3 National title and was an All-American. She holds seven U.S.T.A. national titles as well as the # 1 US. ranking in the 35's age group.
She was elected to the Marin County Athletic Hall of Fame and Redwood High School Athletic Hall of Fame for coaching the Boy's Tennis Team at Redwood High School and has been honored by the PCA as an S.F. Bay Area Double-Goal Coach Winner and National Finalist.
She has almost 40 years of service to the United States Professional Tennis Association and recently was awarded the 2017 and 2022 NorCal Pro of the Year. She is a "veteran" sports mom and taught three out of her five children to play tennis and enjoy the sport.
Her passion for sports, competition, and fair play has drawn her to the Positive Coaching Alliance. Carrie currently teaches tennis and pickleball in Berkeley, CA at The Claremont. Carrie is the Head Pickleball Coach Developer in NorCal.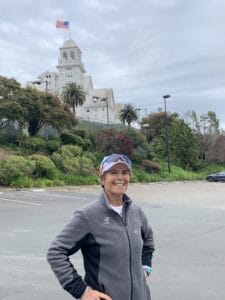 About Anne Z: Anne Zarraonandia is a semi-retired USPTA tennis professional that now sells on eBay as a Powerseller! Anne and Carrie are also certified pickleball instructors through the USPTA and IPTPA. Anne is training to become a USPTA Pickleball Coach Developer in NorCal.