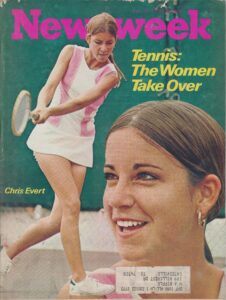 My all-time favorite tennis player is Chris Evert. She is a few years older than I am and influenced me tremendously when I was a teenager playing junior tennis in Northern California. I read every tennis magazine with the girl from Fort Lauderdale, FL on the cover and watched every match she played on TV. When the Virginia Slims circuit came into the SF Bay area, my sister and I went to as many of her matches as possible. I met her a number of times, usually asking her a tennis question first and then, for her autograph. She was always very gracious and down-to-earth. The highlight for me was many, many years later when I turned 50 years old. More on that in a future post!
My Chris Evert obsession began when I was 14 years old and she was 16.  She made it to the semi-finals of the 1971 US Open, which was held on the grass courts of Forest Hills, New York. What caught my attention, was how laser-focused she was on the tennis court. Her two-handed backhand had pinpoint accuracy and she was without a doubt the most consistent player in the world! I even tried to learn a two-handed backhand for about six weeks, which did not work for me, so I went back to the more common (in the early 1970s) one-hander. That US Open put her on the map so to speak! She was still a school girl and beat veteran opponents including an amazing comeback against MaryAnn Eisel.
Chris was eventually stopped by the "Ole Lady", Billie Jean King. Billie Jean recognized Chris' popularity and embraced her as the new face of tennis.
Chris Evert's overall career winning percentage of singles matches of 89.97% (1309–146) is the highest in the history of Open Era tennis, for men or women. She is a stand-out in the tennis record books, with so many achievements too numerous list in total, but some include:
34 Grand Slam singles finals
Reached the semifinals or better in 52 of the 56 Grand Slams she played
Most consecutive years (13) to win at least one Grand Slam title
Won 125 consecutive matches on clay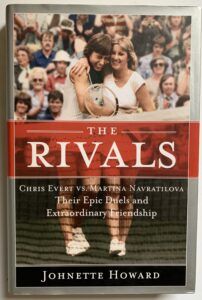 Her domination was long-lasting and she was the most popular tennis player in the world for many years. She had many nicknames, like "Ice Maiden" "Chris America" or "Little Miss Poker Face". Her greatest rival was a lefty, Martina Navratilova and they played an amazing 80 times with Chris behind by 37–43 in win-losses. They made each other better on and off the court and still remain friends today, forty years later.
Chris Evert was the number one tennis player in the world for seven years and is a member of the International Tennis Hall of Fame. After her retirement in 1989, she raised a family (three sons) with her second husband, Andy Mill. She has been married three times, to fellow tennis pro John Lloyd, Olympic skier Andy Mill and golfer Greg Norman. She owns the Evert Tennis Academy in Boca Raton, Florida with her younger brother John Evert and is a TV tennis commentator on ESPN. She is a publisher and contributor to Tennis Magazine and is still considered one of the greatest tennis players of all time! She even hosted Saturday Night Live back in the 1980s! Here is the promo for her hosting debut, below.
A personal Chris Evert highlight happened over ten years ago. I watched Chris play at a local charity tennis event. At that time I was making a film called: The Shasta Bowl. A friend suggested that I interview Chris and use the footage in the documentary. At the end of the day, I lined up with all the young kids asking for autographs. Chris was sitting next to Tracy Austin and I spoke with both of them. See the interaction here on YouTube.
Chris Evert and Tracy Austin make surprise appearances towards the film's end. 54:04 Conchita Martinez, 54:54 Mary Jo Fernandez, 55:05 Chris and Tracy. One comment: None of them have ever won The Shasta Bowl!
If we go back even further in time, in 1976 and I made a film in college called A Dream Come True and it was about my younger sister Carrie having an opportunity to play tennis against Chris Evert. It did not happen in real life, but it did in this short movie. You can watch it here! I think it's a hoot!
If you play tennis or watch tennis, you know Chris Evert. Her contribution to the game of tennis is huge, as a Hall of Famer and ambassador, and role model. Please feel free to comment below on your thoughts about Chris.
As an Amazon Associate, I earn from qualifying purchases.