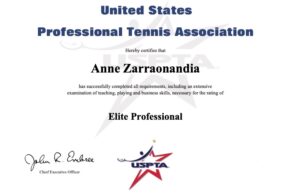 Become a USPTA Tennis Pro Today!
I have been a member of the USPTA (United States Professional Tennis Association) since 1985. That's 37 years! I am classified as an Elite Pro.  I have made my living teaching tennis to all ages and to all levels.
Belonging to an association that strives to raise the standards of teaching the game is why I originally joined. At that time in the mid-1980s, there were roughly 4,000 professionals. Today there are over 15,000 members.
The History of the USPTA
The association began in 1927 with a handful of members in New York City. Here is a link that describes the growth and history of the USPTA.
Tennis is Booming
The number of people playing tennis is growing! However, we have a shortage of pros, and clubs and recreation departments can't fill positions with qualified pros. We need more people interested in joining our profession.
How about you? A USPTA certification will give you a leg up in both teaching skills and credibility with potential employers. I would like to help you get started with an application to join the USPTA.
Watch This Video!
If you love tennis and want to become a certified tennis instructor or professional, this video may motivate and inspire you.
Please contact me directly by email and I can sign on as your sponsor and introduce you to the world of teaching tennis as a member of the USPTA!