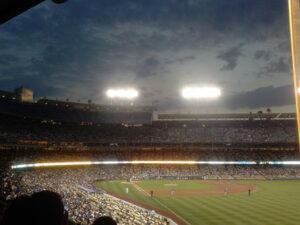 When you are a kid it's hard to imagine that one day you will grow up. So while I was waiting for that to happen, I had an interesting childhood dream. The first sport that I genuinely loved was baseball. I guess what got me hooked were some books that my grandmother sent me. She worked in a bookstore at the Miami International Airport in the 1960s and sent me a biography about Henry Aaron. I can still see the cover in my mind's eye of Hank hitting a home run with the bat over his left shoulder.
My sister and I played catch every day in the backyard. My dad's garden suffered when we missed a throw, so he told us we could not play with a hardball. We convinced him that "rubber coated" hardballs were not as tough on his flower beds filled with petunias and dusty miller plants. He allowed us to continue to play catch. We even had our own rubber bases and practice pitching our "strikes"!
My mother and uncle took my sister and me to our first major league game in Southern California where I grew up. We saw the Los Angeles Dodgers play against the Milwaukee Braves, and Henry Aaron was playing in person! The Dodgers won 5-3 and even after fifty years, I can recall the score! Our seats were on the first baseline, just up one section and we had a perfect view. My mother brought some field glasses and had her eye on the celebrities in the stands, namely Cary Grant, one of her faves.
As an athletic kid, I was dismayed by the fact that we had to dress up to go to the game. My sister and I actually had to wear skirts! In those days, we dressed up when we went to the airport, too. How times have changed! A few years later, a friend gave our family a "real" Dodger uniform, but it was too small for me or my sister. We dressed one of our younger brothers in it when we went to another game at Dodger Stadium (one of the best stadiums to watch a game in person!). My brother has never forgotten that, or forgiven me either! I still have that small jersey in the closet!
My favorite Dodger player of all time was the legendary Sandy Koufax. He was a lefty, like me. He was just so cool, I started reading books about him too! My grandmother sent more baseball books and I read the sport page box scores in the LA Times, the moment I woke up. I learned all the stats of each player and began collecting baseball cards. With all of this baseball influence, it's hard not to see that I dreamed I would play for the LA Dodgers one day myself.
This was before girls were allowed to play Little League and had to play softball instead. That was fine with me, a home run was a home run in either game. We played "Over the Line", "3 Flies Up" and "Pickle in the Middle" with the boys in the local park. That is until my sister was hit in the head by an errant softball which knocked her "out cold".
My parents said, "That's it, no more baseball. You girls aren't going to become professional baseball players. You need to concentrate on your tennis lessons." They did have a point, tennis was "The Sport of a Lifetime" and even though women weren't making a lot of money in those early days of Open Tennis, Billie Jean King was on the scene and would have her say about that! More about my second childhood dream to become a great tennis player in a future post.
I still love baseball to this day. I know it's hard to believe, but I am a San Francisco Giants fan these many years later. We moved north of The City when I was fifteen. Most of my favorite Dodgers players retired by the time we moved, so I didn't follow The Dodgers during the Tommy Lasorda years. I admit to being a Barry Bonds fan and loved watching him hit home runs into McCovey Cove. I'll never forget watching him pass Hank Aaron's record of 715. I was lucky enough to watch many of the greats like Hank Aaron, Sandy Koufax, and Willie Mays. It's the stuff that childhood dreams are made of!