A Big Thank You
The end of Summer 2022 has a couple of all-time tennis legends ending their professional tennis careers. First Serena Williams said goodbye at the US Open tournament playing her final matches with celebrations and adulation. She announced her intentions to evolve away from tennis in Vogue Magazine's September issue. Serena also spoke about the topic with her friend, Meghan Markle (Duchess of Sussex) on her debut podcast episode called Archetypes on Spotify.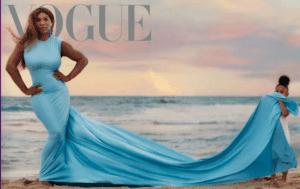 Roger That
Now Roger Federer is sharing his retirement on social media by reading a heartfelt letter to the tennis world. I must say, it brought a tear to my eye, even if it was not unexpected. Roger is forty-one years old and has been away from the game, recovering from injuries and surgeries for a while. It was still a big deal. His last event will be the popular exhibition event called the Laver Cup next week, in London.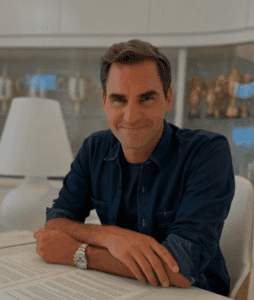 Here is the link to his announcement on Twitter. It is titled: To my tennis family and beyond, With Love, Roger
Retirement is part of every tennis player's journey. They work their way up the rankings and play for titles and their love of tennis. Some champions have shorter professional careers like Bjorn Borg, who retired at the age of twenty-six. Others like Martina Navratilova had a couple of comebacks and added to her trophy count because she still had a love of the game. She and Bob Bryan won the Mixed Doubles event at the 2006 US Open. At the time, she was only about a month shy of her 50th birthday and broke her own record as the oldest ever major champion (aged 49 years, 10 months).
"The ball doesn't know how old I am." Martina Navratilova
When Is It Time to Go?
Other champions have made very definitive exits from tennis competition. Steffi Graf comes to mind. She retired at the age of thirty years old and held the #3 ranking at the time. Announcing her retirement from tennis in 1999 at the turn of the new millennium, Steffi Graf stated "I have done everything I wanted to do in tennis" and alluded to her lost motivation and fun in the sport.
Fans Will Miss Them
As a tennis player, teaching professional and a fan of the game, I know I will miss Serena and Roger, just as I miss Billie Jean King, Chris Evert, Steffi and so many others I watched and admired over the years. Tennis is bright with new players like Carlos Alcarez and Coco Gauff winning big matches. Alcarez is the youngest player to ever hold the Number One ranking, after winning the 2022 US Open this past week. There are so many tournaments ahead for him and other talented players.
It is bittersweet to say so long to our favorites. Time marches on and new players become champions.
This tweet was posted this morning from Carlos Alcarez to Roger Federer and it is very fitting.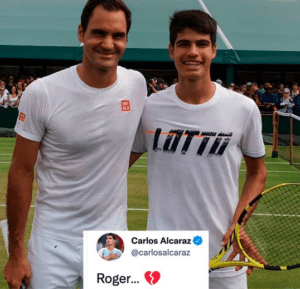 Thank you, Roger!
It's been inspiring to watch you play! You have been an incredible champion!
Not to mention the most beautiful ball striker the game has ever seen!
Wishing you the best!
For those who collect all things, Roger Federer, check out a few items I have on eBay. I love collecting Roger stuff myself!