Live music has a magical way of uniting people from all walks of life, transcending age, background, and preferences. The enchantment of a live performance is palpable, and it reaches its zenith when an artist like Taylor Swift takes the stage. A recent concert experience where I had the privilege of witnessing Taylor Swift in all her glory has solidified itself as a cherished memory, a tale I'm eager to share about my once-in-a-lifetime experience of seeing Taylor Swift in concert.
Anticipation
The anticipation of the evening was palpable as I joined my fellow Swifties and family: Kim, Carrie, Heidi, Brooks, and Katie, at the venue. What struck me first was the diverse crowd – a sea of faces spanning generations, all brought together by their shared admiration for Taylor's music. The outfits people wore were a testament to the profound impact Taylor has had on fashion and pop culture. The youthful energy in the air was invigorating; I felt a connection with those around me, even before the music began.
One particularly special touch that warmed my heart was the exchange of friendship bracelets, a tribute to Heidi's hard work in making them for our group. This simple gesture of unity underscored the sense of community that Taylor Swift's music creates, transcending the realm of a typical concert and embracing a feeling of togetherness.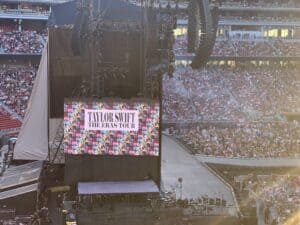 Cruel Summer
As the stage came alive and the music swelled, Taylor Swift emerged onto the stage, and the crowd erupted in thunderous applause and cheering. The concert was an extravaganza, a spectacular production that seamlessly blended Taylor's captivating lyrics and melodies with stunning visuals and choreography. For a staggering three and a half hours and forty-four songs, Taylor held us captive with her electrifying performance.
The energy in the arena was electric. From the opening notes of "Miss Americana & the Heartbreak Prince", every fan in the audience was on their feet, singing along to every lyric. Taylor's ability to command the stage, her energy radiating, was awe-inspiring. It was clear that every nuance, every movement, was designed to ignite excitement and emotion in her fans. As the concert unfolded, it was apparent that Taylor Swift wasn't just a performer; she was a storyteller, sharing her journey and inviting us all to join in.
A highlight that left a lasting impression was the appearance of the janitor cart, which Taylor famously uses to be brought onto the stage. The excitement that rippled through our section when it appeared was sheer exuberance – a collective outpouring of admiration and delight.
Taylor's parents making an appearance was a heartwarming touch, greeted with cheers from the crowd. This glimpse into her personal life made the experience even more intimate, reminding us that behind the superstar persona is a real person who has shared her life through her music.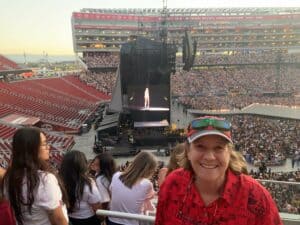 Certain moments were etched into my memory with a sense of awe. The anticipation building up to the start of the show was exhilarating, but nothing compared to the electrifying energy that surged through the audience when Taylor finally appeared. The first bridge of the evening was highlighted by Taylor for the song "Cruel Summer". It marked the beginning of an unforgettable night, and the applause that followed was relentless. The sound of the whole audience shouting the words rippled through Levi Stadium's large 70,000 people capacity like an earthquake. The shows in Seattle, WA the week before actually registered of magnitude of 2.3 earthquake.
The bridge from Cruel Summer by Taylor Swift, Jack Antonoff, and St. Vincent.
I'm drunk in the back of the car
And I cried like a baby coming home from the bar (oh)
Said, "I'm fine," but it wasn't true
I don't wanna keep secrets just to keep you
And I snuck in through the garden gate
Every night that summer just to seal my fate (oh)
And I screamed for whatever it's worth
"I love you," ain't that the worst thing you ever heard?
He looks up grinning like a devil
The extended version of "All Too Well," has become an anthem of her fans, showcasing Taylor's immense talent and her connection with her audience. Each song, each note, was an invitation to relive the stories she weaved through her music. Each individual concert on the Eras Tour featured two "surprise songs" to keep things fresh and fans on their toes. To announce this gimmick on the opening night of the tour Swift said, "The plan, the goal, would be to play different songs every single night and never repeat one." Forbes Magazine featured an article about the genius of this idea. Click here to read.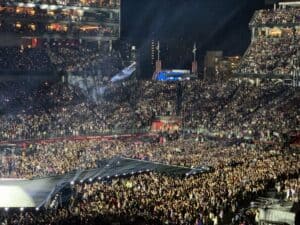 Are You Ready for It?
In the lead-up to the concert, I immersed myself in Taylor Swift's world. I had watched videos, listened to every album, and memorized lyrics, eager to fully savor the experience. And yet, nothing could truly prepare me for the surge of emotions that flooded my senses when the music played live. It was an unrepeatable encounter, a testament to the power of music and the bond between artist and audience.
Reflecting on the journey that led me to that unforgettable night, I am filled with gratitude. From securing the coveted Ticketmaster tickets to navigating the logistics of parking, sustenance, and merchandise, every detail fell into place. Being a part of the Swiftie community has deepened my understanding of Taylor's impact on people of all ages, a testament to her authenticity and relatability.
Having attended numerous iconic concerts over the years, from legends like Elvis and Madonna to modern greats like Jason Mraz, I can confidently say that Taylor Swift's performance has earned a well-deserved spot among them. Her artistry, coupled with her ability to connect with fans of all ages, is truly extraordinary. While Taylor Swift has undeniably found a place in my heart, my long-standing admiration for Barbra Streisand remains unshaken.
In conclusion, witnessing Taylor Swift in concert was a once-in-a-lifetime experience that transcended expectations. It was more than a performance; it was a communion of souls brought together by music. The energy, the connection, and the shared joy of that evening will forever hold a special place in my heart, a cherished memory of a time when the world paused and we were all united by the magic of live music.