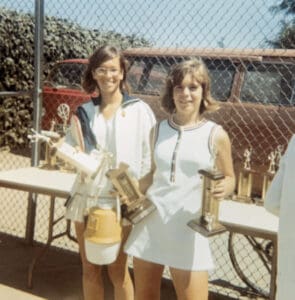 Tennis
When I was 11 1/2 years old I learned how to play tennis. My mom signed my younger sister, Carrie, and me up for lessons through the local Parks and Rec Department in Thousand Oaks, CA where we grew up. I can't say it was my favorite thing right away. My mom would drive to pick us up from the park, where we were playing baseball with the boys, and take us to the TO High School for our daily afternoon group lesson in the summertime.
We played with wooden tennis rackets and took a can of three balls with us to each lesson. We would get in line to hit balls, run up and give the instructor the three balls, get back in line, hit the balls over the net, run and pick them up and do the whole thing over and over again. Not exactly Wimbledon, but for us, it was pretty easy to do. We were good athletes, fast runners, and liked tennis well enough.
Chris Evert
Then I discovered Chris Evert. She was a couple of years older than me, and I saw articles about how she dominated junior tennis in Florida. She burst on the national scene at sixteen, still an amateur, during the US Open in 1971 and made it all the way to the semi-finals.
Watch my sister Carrie play Chris Evert in an early film I made in college!
She had a two-handed backhand, I had a one-handed backhand. She had good groundstrokes, I liked to volley at the net. She was a very consistent player, I took wild risks. My play was nothing like hers, but I admired her mental toughness. I began collecting every single tennis magazine cover that she appeared on! I subscribed to World Tennis Magazine and Tennis USA back then and she often appeared on the cover as the new, young star in women's tennis. So began my Chris Evert collection, which I still have to this day! It includes Books, rackets, photos, autographs, programs, newspaper articles, and videotapes of her matches.
Barbra Streisand
Then, when I was fifteen, I saw a double feature at a matinee of Funny Girl and On A Clear Day You Can See Forever! The funny part is I somehow knew all the words to the songs in Funny Girl. My father had been an early fan of Barbra Streisand and played the Broadway Cast Album of Funny Girl over and over, years before. Those songs were already captured in my brain! I was hooked. I bought every single Barbra Streisand album! I collected every single movie magazine with her image on the cover AND inside. I read and collected every book, poster, and 45 rpm single I could get my hands on. This was before eBay and on the internet so my collection grew by mail order and by going to movie memorabilia shops. It was great fun when I met tons of fellow Barbra fans during her 1994 concert tour. I was pen-pals with a lot of them. I even began a venture called The i love Barbra Catalog and sold duplicates of what I collected to other Barbra fans.
My massive Streisand collection is a pleasure that continues today! I'm not sure what will become of it down the road, but I still get enjoyment from looking at the movie stills and listening to her music every day. A passion of mine became a collection for me once again.
Pins
The
last of my big collections are my PINS
! Olympic pins, Disney pins, travel, and souvenir pins. I began collecting when I went to the Atlanta Summer Olympic Games in 1996. I had a new cap to begin the trip and before I knew it, I had attached a pin for every event I watched and for sports I enjoyed. By the time I came home, the hat weighed a ton and my head was a little pierced from the metal backings digging into my scalp.
It has become a fun and easy way to track all the various trips and activities I've done through the years. Pins are inexpensive, and on each trip, I take to Disneyland I head home with a memento of that vacation. I specialize in collecting Disney Ride/Attraction pins or I would be broke for the rest of my life if I tried to collect everything.
My advice for fellow collectors: collect your passion. It is great fun! Others may not get it, but what the heck, you only go around once in your life! Have fun! Hopefully, you have enough room to save all the stuff you find!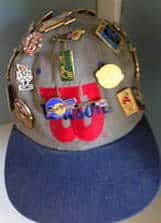 ​