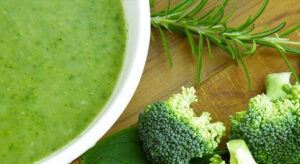 We set our clocks back yesterday and it put me in the mood to make some soup for dinner! Cream of Broccoli it is! It's super easy and really good for you too! This recipe doesn't contain onions since we have a food allergy in our house to onions, but you can add them if you like. I don't miss them frankly.
Shopping List:
3 large crowns of broccoli (3-4 cups chopped)
1 pint of half and half (use 1/2 cup or so)
1-2 potatoes (you can peel or leave skin on, I leave it on!)
6 cups of chicken stock
You should have everything else in your kitchen:
salt, pepper, pinch of nutmeg.
In a large pan, pour the chicken stock in, over medium heat. Add the potato and broccoli cut up into bite size chunks. Add salt and pepper. Stir as needed to make sure the veggies soften. This will take about 15 minutes or so, simmering nicely. Turn off flame.
​Take out your handy soup stick and blend the ingredients until they are as smooth as you like! Add a pinch of nutmeg!
Ready to eat while it's hot!
Homemade Croutons
For a fun garnish, I added some homemade parmesan cheese croutons.
Take a six inch long french bread and butter it, add finely grated parmesan cheese to the top.
Dice into bite size squares. Put into toaster oven and watch closely so they don't burn.
Take out when they have a light color to them! Add a handful to your bowl of Cream of Broccoli soup!
Delicious! Serve with a great salad and you have a FANCY late Fall meal!
Perfect for when it gets dark earlier! Bon Appetite!
As an Amazon Associate I earn from qualifying purchases.