Do you have any old VHS tapes lying around? If you do, you are not alone! But a big question remains, what can I do with them? The good news is that they don't have to be dust collectors anymore! Not only can you access and view old videos, but they can now be safely recycled after you have watched and or digitized them! It's super easy and actually fun to discover what's on those old tapes!
Step One
Find your old VHS player. It might be hiding in the hall closet or on the basement shelf! If you don't have one anymore, ask an older relative or neighbor. They may still have one that works. The last resort is to find one at a thrift store, garage sale or on eBay. I would not pay more than $25. If you are selling them, they might fetch upwards of $75!
Step Two
Hook up your VHS Recorder to your computer with by using a product that converts and digitizes analog VHS video tapes. My favorite is by El Gato. Here is the link to Amazon. As an Amazon Associate I earn from qualifying purchases.
There are other products if you have a PC and not a Mac, which will work. The idea is to use a converter that connects from the video tape recorder to your computer via USB. Once the product's software is installed and you've connected the plugs, you are ready to go! It's easy to do! Here is a short video that shows just how to set it all up by JRESHOW on YouTube.
Step Three
Insert an old VHS tape into your videotape player, open the software and press the PLAY button (right facing arrow) on the player. You should be able see what's playing on the tape, right on your computer. If you want to save/digitize what you see, then click the RECORD button on the software and it will begin digitizing your tape!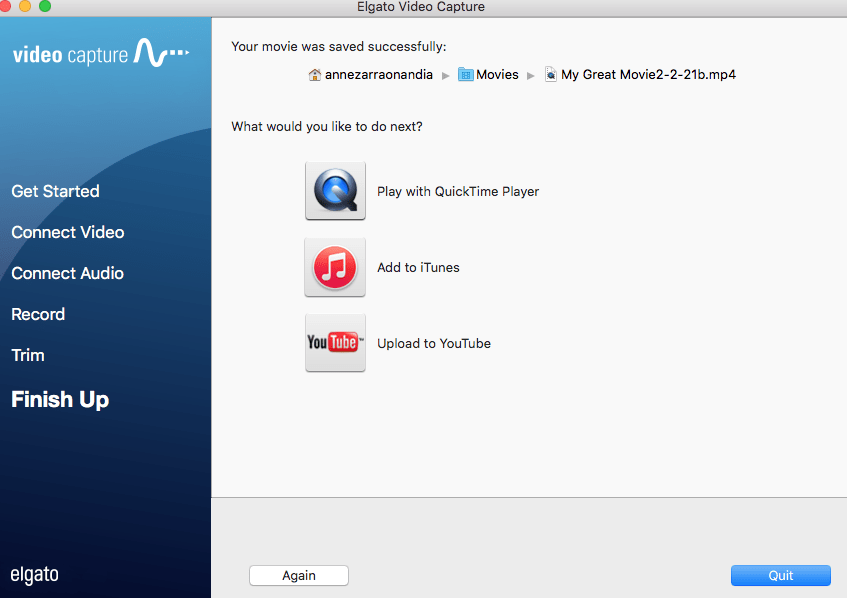 Step Four
Stop recording when the program on your tape is complete. It will take a few minutes to create a .mov file or .4mp file.
The file can be made into a Quicktime file, which then can be saved on your computer or uploaded to YouTube. I have saved all the digitized files I've converted to an external hard drive, connected to my computer, in order to save room on my computer for other files. Video files tend to be rather large in size, as you may know!
Step Five
You may want to trim the ends of the now digitized file, which can be done in the ElGato software. Or you may want to do more serious editing and perhaps take out the commercials or maybe add titles to your clip. That can be done using movie editing software like iMovie, which is free on the Mac. After some researching and testing, I found an easy to use program called Filmora from Wondershare and it is my new favorite. Here is a link to their website, which offers a free trial. I have also used Final Cut Pro on my Mac as well. That program is probably more robust than the average user needs.
Step Six
You have now finished watching your old videotape and taken (digitized) the clips you want to keep. The files can be stored on an external hard drive and/or put up on YouTube. Now, what should you do with the old hard plastic video tapes? They are not easy to recycle because of the Mylar tape inside of them. They are similar to old audio cassette tapes! I found a wonderful site, located in Northern California called Green Citizen. Check them out. It is easy to send your unwanted electronics and media! I recently sent a box of 30 old VHS tapes to them and it cost me just 50 cents per tape to have them properly disposed of and recycled.

Step Seven
Congrats! You have found some new (old) footage to watch! Some might even be worth saving! The best of it may be worth uploading to share on YouTube. Please be advised that some of the items you upload may be copywrite protected. Please observe YouTubes rules! Here is another post that shows you some of the things I've uploaded to my YouTube channel! If you like tennis and Barbra Streisand, you will definitely find clips of interest. I have even posted an old Michael Jordan Hot Dog commercial from the 1999!
Step Eight
I'd love to hear from you if you still have old VHS tapes lying around! I would also like to hear from you if you are going to try digitizing those tapes on your own. One last way is to have a company like Kodak or many others do the work for you. It will cost you more, but save you time! Check out this option here! They often offer coupons for a discount on their many services!